For Sales & Technical Information, Text or Call 360-346-0054 sales@barnfactory.com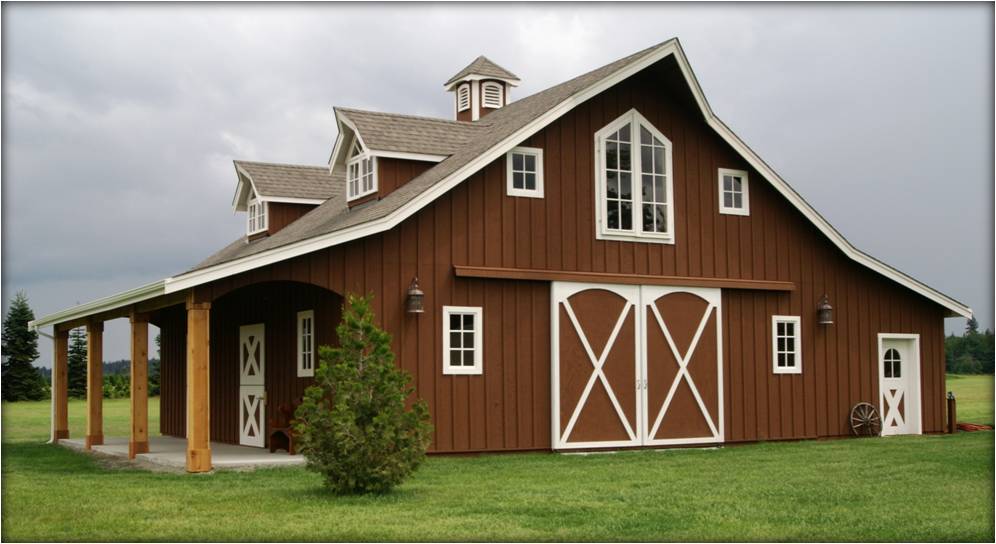 "The McKinley"
52'x36' (3168 Sq Ft) with loft apartment
We offer:
A. Standard engineered plans
B. Partial Kits, including:
Customized "just for you" plans. 22 pages engineered to International Residential Building Code (IRBC)

A $6000 credit toward your choices of our doors and prebuilt accessories

A quote from our supplier for a delivered package of high quality Northwest building materials and hardware

A material and hardware list for your local comparison shopping

Partial kit terms $3400 to start, remainder due when plans are completed and the accessory crate is ready.
C. Quotes for doors and prebuilt accessories to complete your own ongoing project.
To estimate the cost of the plans, lumber/hardware package, premade items, ( Doors, cupolas, etc) and your shipping cost:
Add up the square footage of the downstairs plus the upstairs, including any shed porches. Then multiply the SF times $10 to get an estimate of your delived kit cost.
NOTE: Extra premade items add to your total.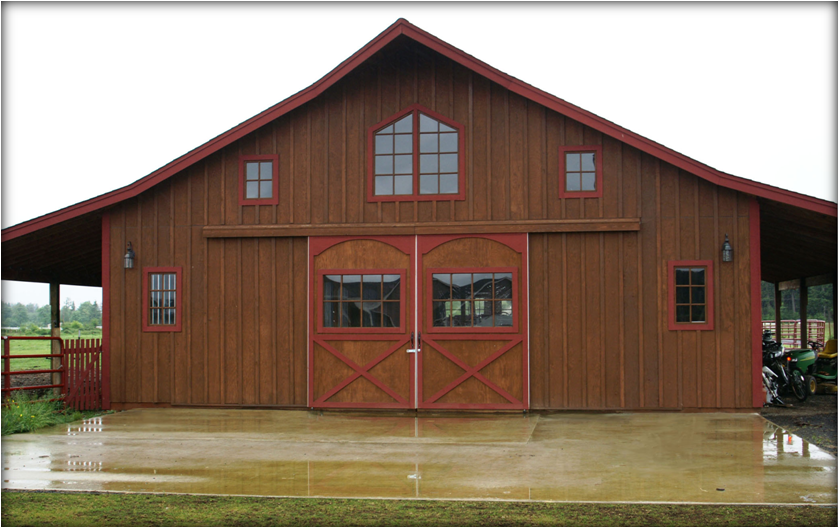 "The Pioneer"
52'x48' (1872 Sq Ft) Open or enclosed side sheds
(Pioneer styles Do Not have Lofts)
44' x 36' With 44' x 36' Loft

72' x 80' With 32' x 80' Loft

60' x 84' With Full Loft

36'x52' Western Classic Sty

56'x84' overall with 38' x 84' Loft

36'x48' (No Loft) Pioneer Style

Garage with Living Space

32'x36' with Full Loft

48' x 48' With 32' x 32' Loft

Cabins

36' x 44' With 24' x 36' Loft
We offer
Barn Kits and Barns with Apartment Kits
RV Garages and RV Garage with Living Kit
Workshops and Garage with Apartment Kits
Barn Home Shell Kits
Cabin Kits
Each customized just for you until you say "That's perfect!"
| | | | | | | |
| --- | --- | --- | --- | --- | --- | --- |
| | | | | | | |
| | | | | | | |
| $1000 * | Varies * | $1000 | $1450 | $350 * | $480 | $550 |
We have a great selection of Gorgeous Wood Barn Doors
* Hardware and/or Stained Glass By Owner
10 Good Reasons to order from The Barn Factory
1. Better Barn Plans – Our designs are stronger, more accurate, and easier to assemble. We have 40 years of design and on site assembly experience.
2. Better Barn Engineering – Our plans work! We provide packages for high wind and high snow areas. We understand barn use and adjust the plan until it works perfectly.
3. Better Looking Barns – We have an eye for aesthetics. We can fit "the look" to match your floor plan. No extra charge for curb appeal. We can do any roof design – Gable, Gambrel, Raised Center, etc.
4. Better Quality Lumber – Exceptionally high quality Northwest Douglas Fir lumber, kiln dried, planed, edges eased. Western Red Cedar fascia 5/4" x 8", 1"x6" Cedar corner trim, 1"x3" Cedar battens.
5. More Purchase Options – We offer more ways to buy your plans, kits, accessories, and lumber packages than any other company.
6. Better Prices – Because lumber quality is up and lumber prices are down, our overall material cost is lower than ever. During the recession we cut overhead to a minimum. At the same time our efficiency is way up. We are now offering the lowest prices since 1982. (*Order early, there are just a few of us here to get your order out)
7. Multiple Uses – We can design your building for animals, shop, RV, business, home, or a combination of any and all of these.
8. More Accessories – We manufacture barn doors, windows, loft doors, cupolas, widows peaks, stalls, and stairways using high quality wood products that match the look of our barns.
9. Sales Tax Savings – Internet purchases from outside of Washington State do not pay sales tax.
10. Shared Shipping Costs – We share the cost of shipping with you. In most states, your share of the shipping cost will be offset by the savings in sales tax.
How the process works
Getting Started
For a simple quote email us with a description of your project and its intended uses. Will it be one story or lofted? Please list the size. Be sure to include the delivery site zip code. We will email an unofficial quote.
For an official quote list the ground snow load, wind load, frost depth, plan scale and plan sizes. Don't guess! Call the county. Also ask them if engineers wet stamped plans review will be required.
Describe your project and its multiple uses. List your contact information. We will call you tod discuss the project in depth. When the final quote has been adjusted to your satisfaction, you are ready to proceed.
Initial payment
The initial payment is 20% of the official quote total. It is not refundable. Upon receipt of your signed order form and the initial payment, we work with you to customize, personalize, and fine tune your plan both by email and telephone until you say "Stop! That's the perfect plan". We then finish the detail pages and the plan is ready for the "engineers wet stamp" (if required) and presentation to the county for permits. We can meet structural requirements for challenging wind and snow areas.
Delivery
When you are ready to take delivery the ramaining balance will be due. Delivery must be taken within one year or other arrangements made.
The cost of delivery is included in your quote.
*Please note, we are a small company. Customers are treated on a 'first come first served' basis. We do our best, but we do not promise delivery dates. Please allow plenty of time.
Gallery
| | |
| --- | --- |
| | |
| A beautiful moon rising over a Triple Crown barn. | A 44'x36' Western Classic. |
| | |
| This "Winter's Grace" a Great Western with loft living space. | This Whidbey Island, Washington barn is ready to bring in the lavender harvest. The energy efficient windows upstairs imply loft living space. |
| | |
| A Great Western with horses below, loft living above | A Western Classic with side sheds |
| | |
| Customized Gambrel | These horses are eating Tennessee bluegrass in front of their beautiful Triple Crown barn. |
| | |
| Another Western Classic | Draft Horse Barn framework |
| | |
| High quality Northwest Lumber. Perfect fits. | Components come in pre-assembled sections for rapid installation |
| | |
| A long days work for the Barn Raisers | The Colorado Princess |
| | |
| The Helena 52'x36' Horse Barn with 40'x60' open workshop | Crated Barn Doors and Barn Windows |
| | |
| University of Washington Conservation Canine Dog Kennel under construction | Dutch Paddock Doors |
| | |
| A customized Great Western | Custom Pole Barn |
| | |
| Typical Pole Barn loft | A 16' Shed Dormer |
| | |
| --- | --- |
| | |
| Glacier Lilly Cabin | Custom Carport – Plans only |
| | |
| 22'x44' Shed Row with loft | 32'x32' Western Classic home, barn, or workshop |
| | |
| Customized loft with skybridge | Customized Great Western |
| | |
| Another customized Great Western | High Quality Northwest lumber |
| | |
| A customized Great Western | This inexpensive and easy to build barn needs more windows |
| | |
| Straightforward engineering | The tall dutch paddock door under the shed overhang is for a tall draft horse. |
| | |